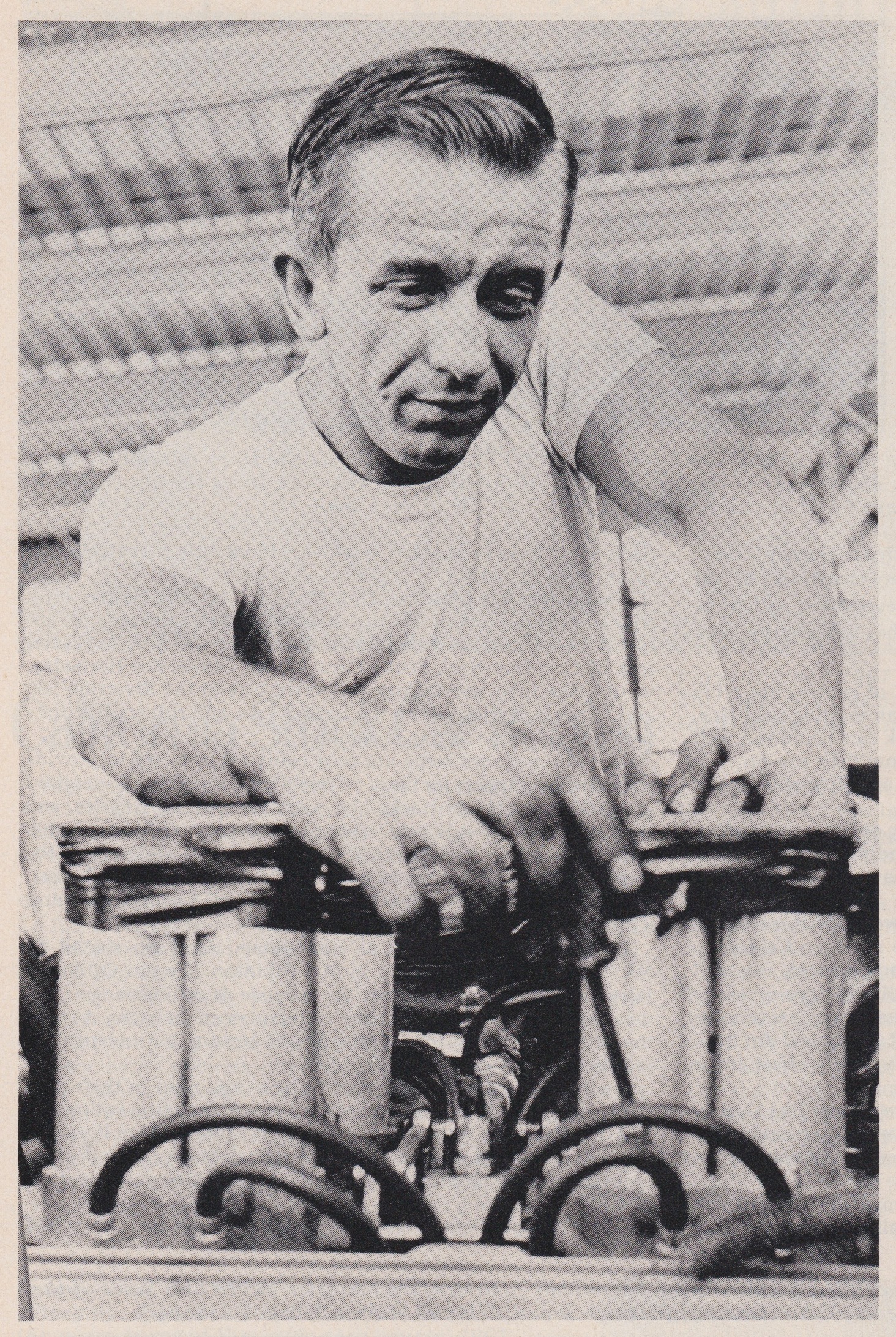 Ed Flemke was one of the great men of American racing.
As a driver for more than 30 years in highly competitive "Modified" stock car racing, Ed won hundreds of races up and down the East Coast. He achieved that despite often being limited to a very modest budget, and indeed he took pride in doing a lot with a little. As long-time competitor Leo Cleary put it, "Ed Flemke won more races with less money than anyone ever has. He was a sly fox, the slyest fox I ever saw". Another deeply experienced racer, Pete Hamilton, opined that Ed was "as smart as any driver anywhere", "truly amazing in the cockpit", and "probably the greatest modified driver ever to come out of New England". Talladega 500 winner Ron Bouchard remembered, "For 10 to 15 years, Eddie was unbeatable."
To veteran flagman Tony Leckey, Ed was "probably one of the greatest ever, ever, to get into a race car of any kind". After following racing for more than 40 years, motor sport journalist Randy Pemberton thought that Ed Flemke was "the greatest short-track racer I ever saw." Sports writer Matt Buckler wrote that Ed "turned the chore of driving a race car into an art form." Four-time National Champion Rene Charland said that Ed was the toughest competitor he ever came up against. NEAR (North East Auto Racers) Hall of Famer Bill Harman described Ed's driving as "amazing" and another Hall of Famer, the legendary Jocko Maggiacomo, remembered, "Flemke – that was a driver". In the words of Hall of Famer Bob Polverari, Ed "wrote the book on Modified racing", and Hall of Famer Bill Greco said that Ed was 'probably the smartest race driver I've seen'. Nine-time national Modified champion Richie Evans told famed racing photographer John Grady that 'Eddie is the Man'.
Looking back on his own 50 years in racing, legendary car builder and owner Bob Judkins was asked, "Who was the best driver you ever saw?" Bob quickly replied, "That's easy – Eddie Flemke! I never saw anyone drive as well as he did. Eddie had a way of seeing things that you couldn't see and he drove inside and around people and made it look so easy. He was the best!"
Ed's countless driving achievements were however only a small part of his unique contribution to motor sport.
Ed had a masterly technical understanding of racing cars, and especially of chassis. He invented what became known as the "Flemke front end" suspension, which in an era of continuous innovation nonetheless remained the industry standard for more than a decade. According to NEAR Hall of Famer Bob Potter, "Eddie Flemke was probably the smartest car-builder and set-up guy there ever was". Leo Cleary said that Ed "was a great chassis man – maybe the best." Ed's knowledge of how to make a racing car handle was so valued that numerous of his competitors would seek him out for advice and ask him to test-drive and set up their cars for them.
One of the extraordinary things about Ed was that he freely helped many other drivers to become more competitive against him.
Ed Flemke was renowned as a generous mentor of younger drivers. Numerous highly successful drivers, including Denny Zimmerman (1971 Indy 500 Rookie of the Year), Pete Hamilton (Daytona 500 and Talladega 500 winner), Richie Evans (all-time NASCAR Modified Championship leader), Tony Siscone (one of Area Auto Racing's "Top 25 Modified Asphalt Drivers of the 20th Century"), Brian Ross (NEAR Hall of Fame inductee), Ron Bouchard (another of the "Top 25 Modified Asphalt Drivers of the 20th Century"), and many others readily acknowledged how Ed had made substantial contributions to their careers.
Denny Zimmerman said that the early 1960s "was a great time for me, just a kid back then, learning all I could about driving race cars and being mentored by the great Eddie Flemke", "he taught me so much". Richie Evans's close friend Wilbur Jones said, "Richie looked up to a lot of guys, and Eddie Flemke was number one. Why? Because Eddie was the master". Three-time National Champion Bugs Stevens wrote that Ed "taught lessons to a lot of race drivers – me included". Driver and race promoter Dick Williams remembers that Ed was "always going around helping somebody to get better – that's what I loved about Eddie Flemke". Tony Siscone has written, "I always referred to Eddie as 'the Coach'…he was always offering me advice on being a smarter, more patient driver. RIP, Coach".
In the context of his own considerable racing achievements, Pete Hamilton reflected, "Eddie Flemke was my teacher and my hero. He changed everything for me". From Ron Bouchard again: "He was a great gentleman and a great person…Even if Eddie thought you could beat him, he'd still come over to offer you help…He was a master of teaching…He got real enjoyment out of helping people…Eddie would help everybody". Rene Charland said that "Eddie Flemke was a good friend of mine – he taught me a lot in racing".
After finishing second to Ed in a 100-lap race at Thompson Speedway, outstanding driver Gene Bergin smiled and said, "The race could not have been won by a nicer competitor".
In light of all the help that he gave to others, one of the nicknames given to Ed was "The Professor". Amongst his other nicknames were "Floorboard Flemke", "Steady Eddie", "The Eastern (or 'Northern', or 'Yankee') Bandit", "The Little Leadfoot" and "The Boss".
"The Boss" nickname alluded to the respect and esteem in which he was held by racing officials, race promoters and his fellow drivers. When a dispute needed resolution, when the drivers needed a representative, when promoters needed advice, it was Ed to whom they looked. Ed and Jack Arute Sr conceived the SK Modified formula, which has been a mainstay of New England racing since 1982. Ed was soft-spoken yet strong, clear in his own opinions yet effective in leading diverse individuals to see their mutual interests and work together.
In 1980, Ed began to drive less frequently, and instead with his son Ed Jr he started "Race Works", building Modified racing car chassis for customers.  Having operated that business for about four years, in March 1984 quite unexpectedly Ed died of natural causes at the age of 53.
Speaking of Ed after his untimely death, the great Richie Evans reflected, "How do I think people will remember Eddie Flemke? They'll remember him as 'Eddie Flemke'. That says it all right there, because there will never be another one."
In everything he did, Ed Flemke acted with professionalism, wisdom, courage and class.
Motor sport author "Bones" Bourcier recalled discussing Ed with renowned car owner Junie Donlavey: "There were tears in Junie's eyes (after decades) as he said of Eddie, 'When I get talking about him like this, it's like he just walked into this office yesterday and sat down right in this chair. And it's like that for a lot of us around here when it comes to Eddie. We never got over him.'" Bones said that hearing and seeing Junie's reaction "was one of the most poignant moments of my writing life."
More than 20 years after Ed Flemke's death, racing expert Bruce Cohen summarized what Ed had meant to racing and to those around him: "He transcended his sport and the arena in which he competed. Lots of guys win races, but there was only one Eddie Flemke".
---
The purpose of this website is to create as complete as practicable an historical resource and record of Ed Flemke. This website has no commercial aspects or connections whatsoever.
If readers are interested in a warm and illuminating remembrance of Ed, and narrative of the important threads of his life, they are referred to Steady Eddie – Memories of Ed Flemke, Modified Racing's Fastest Professor. This fine book was composed and compiled by Mark "Bones" Bourcier, and is published by Coastal International.
If viewers are interested in seeing or participating in an ongoing discussion about Ed, replete with contributions by many who worked with or knew Ed, they are referred to Facebook: "Steady Eddie Flemke Tribute Page". (https://www.facebook.com/groups/1462672684010298/)
The administrator of this website has done his best to credit the photographers or providers of its images whenever their identity was known. If an image has not been credited, or has been credited incorrectly, please inform us and the oversight will be fixed as soon as possible.
We would repeat that this website has no commercial aspects whatsoever. Rather, it has been created and is maintained purely for the information and education of anyone who would be interested in the life of Ed Flemke, a great man who left a legacy from which we all could learn.